The Val-Aires and beyond
Group History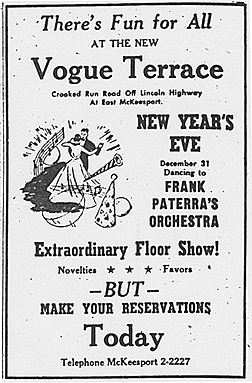 The four-man vocal group, originally calling themselves The Val-Aires,
began working together in the late 1950's. Living in the small town of
Turtle Creek Pennsylvania, they got their start as typical high
school teenagers, having fun in the halls of Turtle Creek High School.
They quickly gained popularity. Their unique vocal sound got them a
contract with a small record label known as Co & Ce.

Turtle Creek (always pronounced Turtle Crick by Pittsburghers) in
the 1950's and 1960's was known as a tight-knit industial town, something
typical of suburban Pittsburgh during those times. Nearby factories
churned out steel, trains whistled by, and trollies clunked their way
through the streets while this group belted out ballads and vocal songs
that would take part in the roots of the rapidly evolving Rock and Roll era.

The Val-Aires quickly changed the name of the group and downsized from
five members to four members to become the popular group that we all know:
The Vogues®. Several hit albums followed until the popularity of vocal
groups declined during the uprise of Rock and Roll.

Now the group's name is owned by Stan Elich (Troy Elich) and
Bengar, Inc. Hugh Geyer returned to group after a 34-year break. And Bill
rejoined shortly after. Some agree that Hugh is the sound of The Vogues
Others argue that Bill, being the frontman, was the keystone of the group.
In reality, the sound of the Vogues came from the chemistry of the
entire group. It was a spark that ignited a fire that's still burning today.

Vocal groups may have experienced a decline in the 70's and 80's, but
now everyone wants to hear the sounds that they grew up with all over
again. And that sound is unmistakably The Vogues with Hugh Geyer and
Bill Burkette at the helm.


Let's review the roots of The Vogues:
This site celebrates the ORIGINAL members which we all know and love.
They are Bill Burkette (lead), Don Miller (baritone),
Hugh Geyer (first tenor), and Chuck Blasko (second tenor).

Chuck is the only member who has performed continuously and actively as
the Vogues since the inception of group. Hugh Geyer and Bill Burkette
recently (re)joined The Vogues for a short time, thus providing both
groups with original members!

This was an exciting time for Vogues fans young and old.

Moments to remember?
While the rest of the original members have taken different paths in their lives,
they all remained friends. They were reunited as a vocal group on stage
at the 2001 Induction Ceremony of the Vocal Group Hall Of Fame located
in Sharon PA. It was an emotional moment for singers and fans.


The original (recording years) Vogues Discography is now available.




















© 2003 hosted by SkyMagik Internet Services -- All rights reserved.
"The Vogues®" is a registered trademark of Stan Elich and Bengar, Inc.
"Vogue Terrace" image used from a public ad in the McKeesport Daily News and/or Greensburg Morning Review.
Last updated: August 2018